Cesare Panti
is entrusted with the management of the estate. Together with Giulio Carmassi, our agronomist/enologist, he is also responsible for the production of our wines and olive oil. Not only was Cesare's father already an enologist in Poggibonsi, but Cesare himself tended for many years the wine cellars of Teruzzi & Puthod in San Gimignano. Thus, Cesare ideally combines professional skill with exceptional dedication.
Giulio Carmassi
obtained his Masters degree in Agronomy and Enology at the Universities of Pisa and Turin. His great passion and motivation enabled himto gain practical experience in some of the most renowned wineries, such as Isola & Olena in the Chianti Classico region and The Hartford Family Wine Estate in California. Due to his big scientific interest he was then able to improve his enological skills by joining an international team of young researchers at Washington State University under the guidance of Prof. Markus Keller. After finishing this program he joined our Gagliole team a few years ago and became responsible together with Cesare for the care of our vineyards and the production of our wines and oliveoil.
Alessia Riccieri
graduated from the High School of Foreign Languages in Florence . Thereafter she began her professional career in the tourism and wine sector. Alessia is fluent in english , german and french. She is manager of our sales and worldwide export activities and has great knowledge and expertise in this area.
When not on a business trip she is happy to show you our vineyards and taste our wines with you.
Serenella Bentivoglio
has a law degree from the University of Siena and is a passioned lover of wines. She is fluent in english and italian. Serenella is responsible for the administration and logistics of our estate. She will also gladly welcome you for an interesting tour and tasting of our wines and olive oil.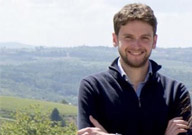 Cosimo Soderi
received his BA in Languages and Communications at the University of Siena. Together with Alessia he is responsible for the marketing and sales of our products in the whole world.
In addition, Cosimo also manages the bookings of our Luxury Bed & Breakfast "La Valletta" and looks after our social media contacts. His great passion is wine, especially from the Chianti Classico region.
Cosimo is fluent in English and has a good knowledge of German, making him the ideal person to give you a wine tour and/or wine tasting.